About Travelling Homebody
Introducing Travelling Homebody
My name is Diane Lee and I'm the Travelling Homebody. I'm a freelance writer and editor, self-published author, traveller and photographer. I'm originally from in Adelaide, the capital of South Australia and a premium wine and food district, but at the end of 2016 moved to Hanoi, Vietnam — where I am currently based and living the dream.
I call myself a travelling homebody because, well, I'm a homebody who likes to travel. I'm what is called an introverted extrovert — I like the company of others, but enjoy my own company and need time alone to recharge. In fact, I prefer solo travel.
True story: I'm a bit of a nanna when I travel.
My first trip, and solo travel
After raising my daughter alone, I started travelling internationally in 2010, with my first overseas trip — at 47 years of age — being to Vietnam, which I did solo, albeit on a group tour. As an aside, I rarely travel with groups these days, preferring the time and space to do my own thing, on my own terms, in my own time. Solo travel is definitely my preferred way to explore new destinations.
I now travel regularly, particularly in Asia because it's so accessible from Hanoi and I still have so much of the world to see (see the map below if you don't believe me).
If you're taking your first trip, go to my Start Here page and grab your free guide and packing list!
Providing travel advice and inspiration
This blog tells stories about my travel experiences, and provides information and advice for those who prefer solos travel — even if you are going overseas for the first time. It's not that scary — trust me!
If you are new to international travel, go to my Start Here page or my Travel Resources page. You'll find both pages incredibly helpful. And if they aren't, tell me what will help!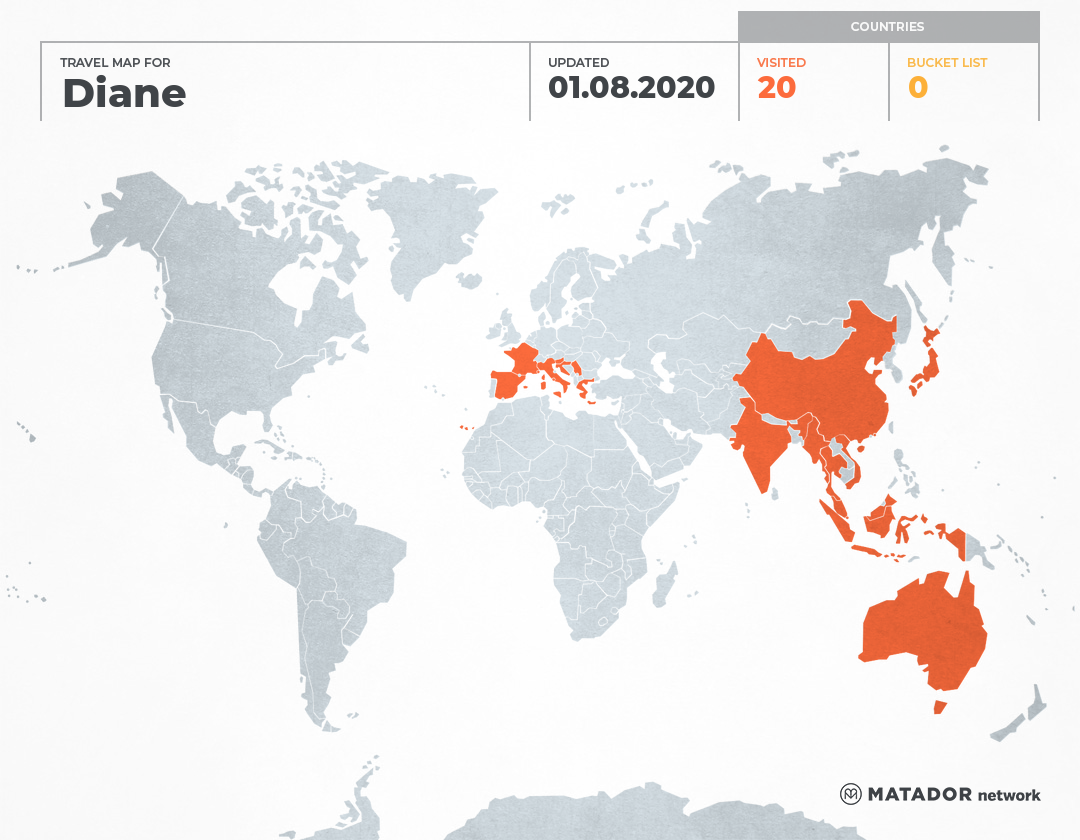 Diane has been to: Australia, People's Republic of China, Croatia, France, Greece, Hong Kong, India, Indonesia, Italy, Japan, Malaysia, Monaco, Myanmar, Serbia, Singapore, Slovenia, Spain, Thailand, Vatican, Vietnam.
Get your own travel map from Matador Network.